Similar to most of the nation, our team at BLG have been cooking and baking up a storm in recent months and we thought we would share with you some of the delicious recipes that we have been enjoying.
This week's recipe is brought to you by Dave Edwards, BLG's South West Regional Director.
Tell us your recipe
Easy-Peasy Blueberry muffins
Where did this recipe come from?
Well, as Shabena beat me to doing my favourite recipe for Lemon Drizzle cake, these are my other cakes of choice
If you could cook this for anyone, who would it be?
The family – our baby loves them, and even the dogs too!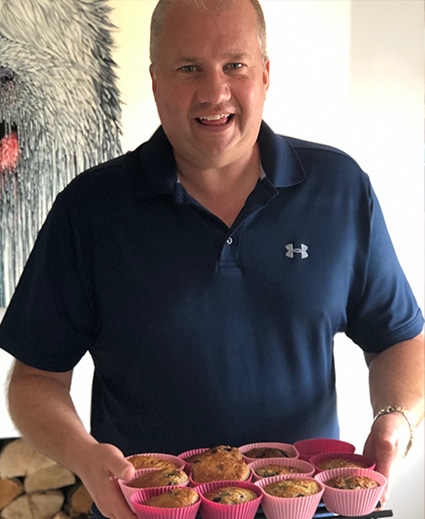 Dave's Easy-Peasy Blueberry Muffins
Ingredients
Makes 12 muffins
2 medium ripe bananas
150g blueberries (fresh or frozen is fine, and you can swap or mix with any other berry fruits)
75g demerara or caster sugar
4 tbsp sunflower oil
2 eggs
130ml milk
150g self-raising flour
1 tsp baking powder
A pinch of ground nutmeg and cinnamon (optional)
50g porridge oats
12 paper cases for muffins
Recipe
Prep time: 20 minutes
Cook time:20 minutes
Preheat the oven to 190 degrees C / 375 fahrenheit / gas mark 5
Line a 12-hole muffin tin with paper cases
Peel & mash the bananas, then mix together well with the sugar, oil, eggs & milk in a large bowl
Sift in the flour, baking powder, nutmeg & cinnamon
Fold in the oats, then lightly fold in the majority of the blueberries (keeping 12 back for the topping)
Divide the mixture between the muffin cases, filling each about two-thirds full.
Use those 12 leftover blueberries to pop one on the top of each in the middle.
Bake them in the oven for approximately 20 minutes, until well risen and springy to the touch.
Then allow them to cool on a wire rack, and gobble up when you can no longer resist!